double book review
Prairie Dawn has done an AWESOME job of bringing a teen base back to the Library--a great group of teens who are actually asking us to do things like a Teen Book Group twice a month and a Teen Advisory Group, and more teen activities. And holy cats! It's great! They're also giving P.D. and I loads of book suggestions, so thought I would share these really fun and absorbing books by Kenneth Oppel in a DOUBLE BOOK REVIEW!
In
This Dark Endeavor: The Apprenticeship of Victor Frankenstein
, twin brothers Victor and Konrad Frankenstein and their beautiful cousin Elizabeth lead a charmed life: wealth, a loving family, and their family chateau, of which they know every inch...or so they thought. In discovering a hidden Dark Library, and even against his father's forbidding, Victor is drawn back to the place and a book which contains a recipe for an Elixir of Life. With the help of the others and the brothers' best friend Henry, the teens set off on a quest that may just prove deadly!
This book was a really fun read and always left me guessing what would come next. Oppel admitted not wanting to write a book with a famous literary character as its' center, but when ideas came to him he put them down on paper and I wasn't disappointed with the end result!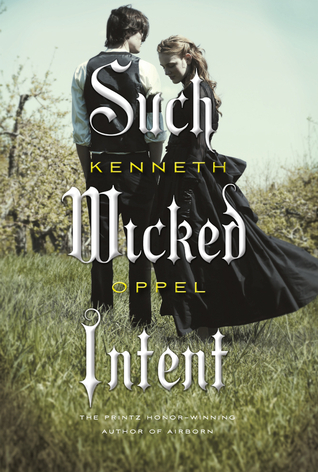 Without giving anything from Book 1 away,
Such Wicked Intent: The Apprenticeship of Victor Frankenstein Book II
sucked me in and was a book that I couldn't put down! As if discovering a Dark Library wasn't enough, even more secrets of the Frankenstein chateau are discovered in this book; Victor becomes increasingly fixated on finding a way to communicate with and bring back the dead. Friendships are tested; jealousy runs high; a love triangle continues! I want to say so much, but don't want to give anything away from book 1--I enjoyed this book as much if not more than
This Dark Intent
!
If you are looking for something fun, read these! I am bummed to see that Oppel still hasn't said when the 3rd book is due out--gah!! I hate that! I guess I need to fall into another YA series...think I'm trying
City of Bone
next. Wish me luck!