scars as reminders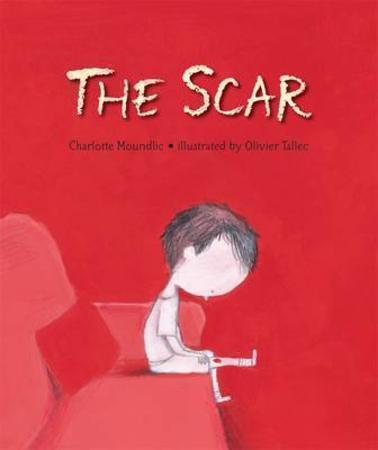 "She shouldn't have had a kid if she was going to leave before he was grown up."
These powerful words, spoken by the little boy in
The Scar--
by Charlotte Moundlic, illustrated by Olivier Tallec--will resonate with any elementary aged child who has lost anyone...heck, this story will resonate with many adults. (I am fairly certain that when my father passed away some years back, I said something very similar to this--I was 26 at the time).
Ms. Moundlic weaves a very believable tale of a young boy grappling with the recent death of his mom:
"Mom died this morning.
It wasn't really morning.
Dad said she died during the night,
but I was sleeping during the night
For me, she died this morning."
Her portrayal of the boy struggling with this death feels so intimate; we see the boys array of emotions from sadness to anger, his attempts at trying to make his Dad feel better. Most poignant is when the young boy equates a cut (which he receives when he falls) to his mother's love; the cut reminds him of what his Mom would say when he was hurt, so of course, the boy doesn't want the the cut to heal.
I also appreciated Tallec's pencil and paint illustrations--with minimal colors--which really allow the boy's words to be the focus moving the story along. I loved Tallec's usage of black,white, and red, which seems appropriate because in death don't we feel the absence and presence of so many feelings (like the absence and presence of the spectrum to make black and white)? And red--the mark of the sting.
I found myself very touched by this book and can't recommend it highly enough to anyone helping a child through the loss of a parent or loved one. This is a gem.
Age: K and up.